Indufor supported the design and conduct of national stakeholder consultation as part of the preparation for Guatemala´s REDD+ Strategy, funded by the Inter-American Development Bank (IDB) from 2017-2018.
As per FCPF and UN-REDD+ requirements, as well as Guatemala´s legal framework, the consultation followed the principles of free, prior and informed consultation (FPIC), and a culturally and gender-sensitive approach.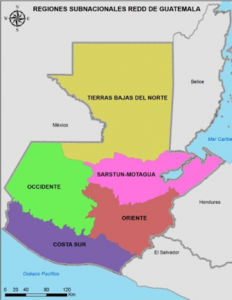 Map of the territories
Indufor coordinated the project and bore the responsibilities for human resources and financial management, data analysis, government and stakeholder relations, training workshops, and communications. Indufor's team provided technical assistance in REDD+, safeguards, participation of indigenous peoples, gender and social inclusion. Main deliverables included gender-sensitive work plan, context analysis and self-identification of stakeholders in five regions prioritized for REDD+ activities, systematization document of previous consultations, gender-sensitive consultation plan, implementation of consultations in five regions prioritized for REDD+, with capacity building and technical assistance provided to local organizations; and systematization of local consultations and proposal for continued consultations, communications and follow-up.
For further information, please contact Anni Blåsten.